Skiing in and around Queenstown New Zealand:
Queenstown is blessed with a fabulous range of Ski areas as well as Heli-Skiing: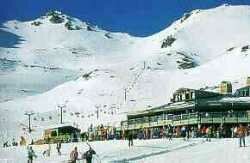 The two closest ski fields are situated a short drive from the town, where most of the accommodation, restaurants, ski hire and bars are located. Queenstown's aprés ski is legendary and it offers excellent shopping. Lake Vista ski accommodation/lodging is near Queenstown's snow ski fields.

The Remarkables Ski area:

This prime Queenstown skiing area is set in a vast natural amphitheatre high in the rugged Remarkables Ranges above Lake Wakatipu , the "Remarks", as they are known locally, are a truly spectacular skiing area, 20km from Queenstown. It has altitude; a long, reliable season and its north facing aspect makes it a glorious sheltered sun trap. Nearly three quarters of its slopes are ideal for beginners and intermediates but there is plenty of off-piste to challenge advanced skiers in this prime ski area.

Coronet Peak Ski area:

Situated 18km from Queenstown and blessed with varied terrain, outstanding views and world class ski & boarding, Coronet Peak ski field has runs to suit all levels of skier and boarder. There are slopes for beginners; long, wide groomed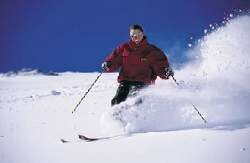 trails for intermediates and some pretty challenging stuff for advanced skiers. If skiing all day isn't enough, on Friday and Saturday nights you can ski into the night as well. Once you know the ropes, you'll discover the secret verticals, dips and drops of one of New Zealand's best and longest established ski areas. Though slightly lower in altitude than "The Remarkables", snow making cannons at Coronet Peak ensure that there is always adequate snow.

Harris Mountains Heli Skiing:

The ultimate South Pacific helicopter skiing/snowboarding adventure. Only Harris Mountains Heli-Skiing can take you into this terrain.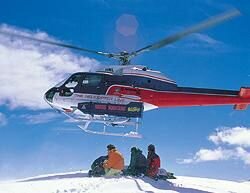 Experience the majestic Southern Alps - untracked powder fields, massive peaks, stunning valleys and challenging chutes. You're standing on the edge of big, snow covered country, you click in, take a deep breath of pure mountain air and contemplate the majesty of your surroundings. Then you let go, glide into exhilaration, adrenaline and the reality checking perspective of being tiny and inconsequential in an immense, silent mountain world.
New additions in 2008 & 2009
Veterans and first timers will be blown away by the transformation at Coronet Peak. $30 million has been spent on a new base station plus a large increase to the already multi-million dollar fully-automated snowmaking system at Queenstown's Coronet Peak ski area making it a world leader in this technology.

The brand new building provides supurb facilities including expanded food and beverage services, a huge sundeck, new and enlarged areas for ticketing, storage, rental and expanded kids facilities, doubling child care capacity.

Coronet Peak has 280 skiable hectares accessed by a six seater express chair, an express quad, a double chair, a T bar, 2 surface conveyor lifts and a biginners handle tow.

The snow making equipment was tripled in 2008 ensuring the best possible snow cover over a longer season. Then a new 92 million-litre reservoir and new pumps were installed at Coronet Peak for the 2009 season and are on standby to give mother nature a hand should she need it.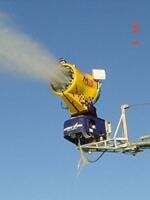 The M1, Wall Street, Big Easy and Mid Gully trails, are all well catered for with the most guns that Coronet Peak has ever had on the mountain at one time.

The Peak is different from most New Zealand ski areas in that the mountain is covered in tussock rather than rock. This means that only 30 cm of natural snow is required to open virtually the entire mountain. The tussocks hold the snow well, and you won't destroy the edges and bases of your skis or board by bashing into submerged rocks!

Coronet Peak is under 30 minutes from Lake Vista B&B, while The Remarkables are only 45 minutes away.